In recent years, there has been a significant shift in the home furnishings and furniture industry as companies increasingly embrace the Direct-to-Consumer (D2C) model. This approach allows manufacturers and retailers to bypass traditional distribution channels and sell their products directly to consumers.
Today, D2C sales, including established brands and digital natives, are estimated to reach $182.6 billion in 2023 and, overall, D2C sales have increased by more than 36% from 2020 - 2022 in the US.
In this article, we will explore the reasons behind the growing popularity of D2C among home furnishings and furniture companies and the advantages it offers to both businesses and consumers.
Get the latest updates straight to your
inbox.
By clicking sign up you'll receive occasional emails from imagine.io. You always have the choice to unsubscribe within every email you receive.
Consumers Are Choosing D2C Over Retailers
According to Statista, the leading reason consumers choose to shop directly from a brand, at 49%, is better pricing. In second place is free delivery at 47% and free returns at 35% in third place. Free delivery and returns were made industry-standard by Amazon before the Covid-19 pandemic arrived, and have become the expectation of most consumers who specifically choose online shopping over a retailer for the reason of convenience and speed.
Beyond this, there are a number of reasons why consumers are choosing D2C over retail, including:
Unique Product Offerings

D2C brands are known for their unique and innovative product offerings. Unlike traditional retailers that often carry similar items from various brands, D2C companies design and manufacture their products in-house. This allows them to create distinct and original products that stand out in the market. Consumers are drawn to the exclusivity and individuality offered by D2C brands, as it allows them to express their personal style and preferences.
Personalized Customer Experience

D2C brands prioritize providing a personalized customer experience. By selling directly to consumers, these brands have a deeper understanding of their customers' needs and preferences. They can tailor their product offerings, marketing messages, and customer service to cater to individual preferences. This level of personalization enhances the overall shopping experience, making consumers feel valued and understood.



Transparent Pricing


Transparency in pricing is another compelling factor for consumers choosing D2C brands. Traditional retailers often have markups that contribute to higher prices for consumers. In contrast, D2C brands eliminate the middlemen and sell directly to customers, allowing for more competitive pricing. Consumers appreciate the straightforward pricing structure offered by D2C brands, as it provides them with a clear understanding of the product's value.



Enhanced Customer Support


D2C brands often excel in customer support due to their direct relationship with consumers. They prioritize providing prompt and personalized assistance to address customer concerns, inquiries, or issues. The ability to directly communicate with the brand fosters a sense of trust and reliability, as consumers know they can rely on the company for responsive and satisfactory customer service.



Convenience and Seamless Shopping Experience


The convenience factor plays a significant role in the rise of D2C brands. Consumers appreciate the ease of shopping directly from their homes, avoiding the hassle of crowded stores and long checkout lines. D2C brands invest heavily in user-friendly websites, mobile apps, and streamlined purchasing processes, ensuring a seamless and hassle-free shopping experience. Additionally, flexible shipping and return policies offered by D2C brands contribute to the convenience factor, making it easier for consumers to try products and return them if needed.



Access to Brand Values and Stories


D2C brands often place a strong emphasis on their brand values, missions, and stories. They communicate their brand narratives directly to consumers, sharing the inspiration, craftsmanship, and sustainability initiatives behind their products. This direct connection allows consumers to align themselves with brands that share their values, fostering a sense of authenticity and creating an emotional connection with the company.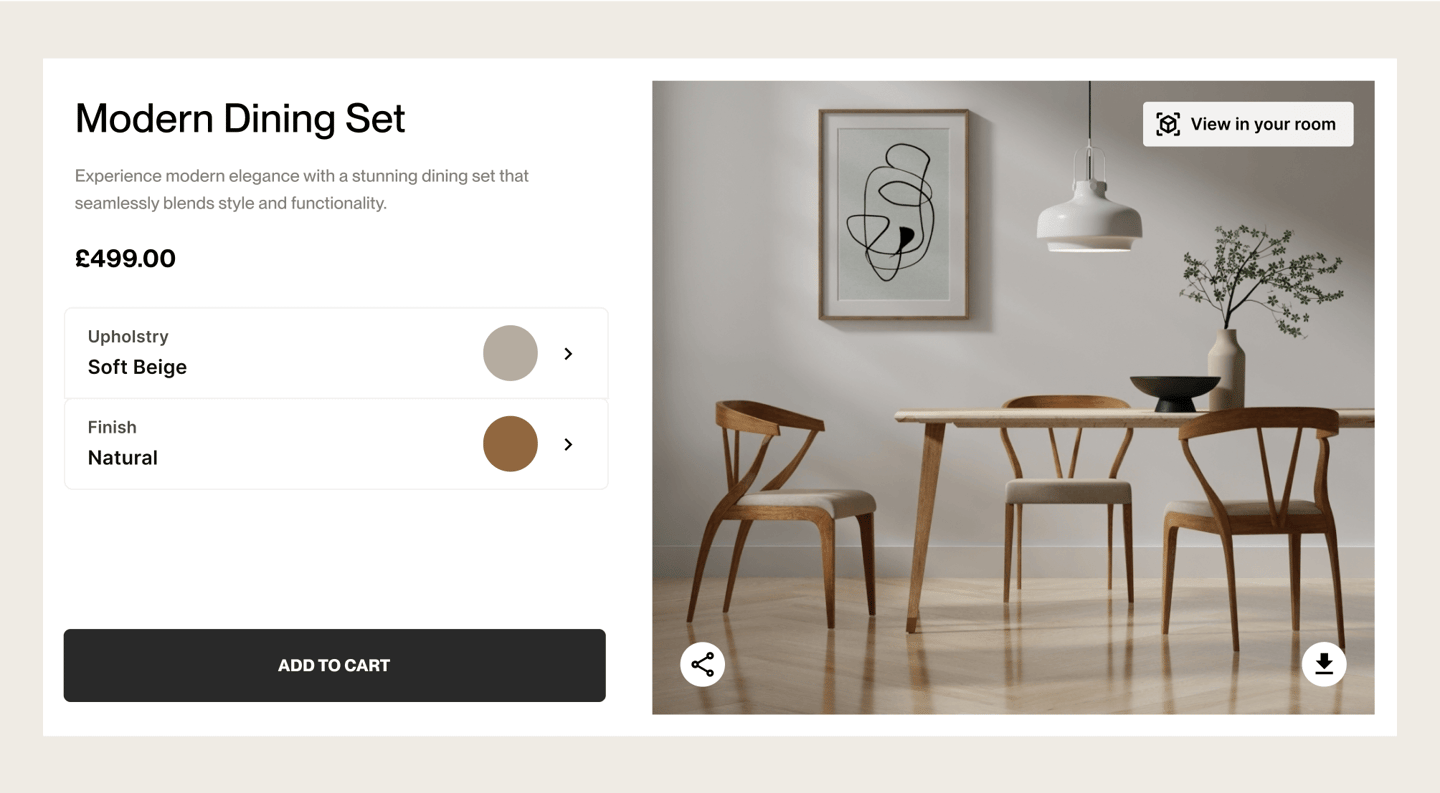 Why D2C Benefits Home Furnishings and Furniture Companies
As mentioned above, there plenty of good reasons why consumers would go D2C versus retail but what's in it for brands? What makes D2C so attractive for retailers and manufacturers today? We've outlined 8 key reasons why going D2C has become the new normal for home furnishings and furniture companies.
1. Cutting Out Middlemen and Increasing Profit Margins
One of the primary motivations for home furnishings and furniture companies to go D2C is the ability to cut out intermediaries such as wholesalers and retailers. By selling directly to consumers, companies can eliminate the markup costs associated with traditional distribution channels. This allows them to retain higher profit margins, reinvest in product development, and offer competitive pricing to customers.
2. Enhanced Control over the Customer Experience
By adopting the D2C model, home furnishings and furniture companies gain greater control over the entire customer experience, from product design and manufacturing to marketing, sales, and post-purchase support. This direct relationship with customers enables companies to better understand their needs and preferences, tailor their offerings accordingly, and provide a more personalized and seamless buying journey.
3. Leveraging Data for Improved Product Development
D2C brands in the home furnishings and furniture industry can collect and analyze valuable customer data, including purchasing patterns, feedback, and demographic information. This data-driven approach allows companies to gain insights into consumer preferences, identify market trends, and make informed decisions regarding product development and innovation. By harnessing data analytics, companies can create products that align with customer demands and enhance customer satisfaction.
4. Creating a Unique Brand Identity
Establishing a distinct brand identity is crucial for home furnishings and furniture companies to differentiate themselves in a competitive market. Through D2C, companies have the opportunity to directly communicate their brand story, values, and craftsmanship to consumers. By maintaining direct control over marketing messaging and brand representation, companies can build a loyal customer base and foster brand loyalty.
5. Streamlined Supply Chain and Inventory Management
D2C models enable home furnishings and furniture companies to streamline their supply chain and inventory management processes. By eliminating the need to distribute products to multiple retailers, companies can optimize their logistics and reduce lead times. This allows for faster order fulfillment, improved inventory control, and reduced operational costs.
6. Seamless Customer Support and After-Sales Service
When selling directly to consumers, home furnishings and furniture companies can provide more responsive and personalized customer support. Companies can establish dedicated customer service teams that possess in-depth knowledge about their products. This direct communication channel ensures prompt assistance, efficient handling of inquiries, and effective resolution of issues, enhancing overall customer satisfaction.
7. Agile Adaptation to Changing Consumer Preferences
D2C companies in the home furnishings and furniture sector can quickly adapt to changing consumer preferences and market trends. By directly interacting with customers, companies can gather real-time feedback, monitor consumer sentiment, and swiftly adjust their product offerings. This agility allows D2C brands to stay ahead of the curve and maintain relevance in a rapidly evolving industry.
8. Sustainability and Ethical Practices
Many D2C home furnishings and furniture companies place a strong emphasis on sustainability and ethical production practices. They may use eco-friendly materials, emphasize fair trade, or promote responsible sourcing to appeal to environmentally conscious consumers. By going direct to consumer, manufacturers stay true to these ethical practices by reducing waste, carbon emissions from shipping and transportation to retailers, and recycling unused materials.
How 3D Makes D2C Selling A No Brainer For Home Furnishings
Direct-to-consumer (D2C) brands have revolutionized the retail industry, offering convenience, personalized experiences, and competitive pricing. The integration of 3D technology further enhances the D2C shopping experience, providing consumers with immersive and interactive ways to explore products. Here, we'll delve into how 3D technology makes D2C shopping easier and more engaging for consumers and why furniture and home furnishings companies are adopting 3D tech.
Virtual Product Visualization
3D technology allows D2C brands to create virtual product visualizations, enabling consumers to see products from every angle and in great detail. With the help of 3D models and interactive displays, consumers can rotate, zoom in, and examine products virtually, replicating the in-store experience from the comfort of their homes. This feature helps consumers make more informed purchasing decisions by providing a comprehensive understanding of the product's design, features, and quality.
Accurate Sizing and Measurements
One of the challenges of online shopping is accurately assessing the size and fit of products. 3D technology addresses this issue by providing accurate measurements and size visualizations. D2C brands can create 3D models of their products, allowing consumers to virtually measure and visualize how items would fit in their homes. This capability helps eliminate size-related concerns and reduces the likelihood of returns due to incorrect measurements.
Customization and Personalization
3D technology enables D2C brands to offer customization and personalization options to consumers. With interactive 3D configurators, customers can modify product attributes such as color, material, and design elements according to their preferences. They can visualize how these customizations would look in real-time, empowering them to create products that suit their unique tastes and requirements. This customization feature enhances the sense of ownership and personal connection with the product.
Immersive Experiences With Augmented Reality (AR)
AR technology, a subset of 3D technology, allows consumers to virtually try on products. D2C brands can leverage AR that enables customers to see how furniture and home decor would look in their own spaces. This immersive experience helps consumers visualize the product's suitability and aesthetics in their specific context, increasing confidence in their purchase decisions.
Reduced Returns and Increased Customer Satisfaction
By providing accurate product visualizations, measurements, and customization options, 3D technology significantly reduces the likelihood of returns. Customers have a clearer understanding of what they are purchasing, leading to greater satisfaction with their choices. This reduction in returns benefits both consumers and D2C brands, as it minimizes costs associated with return logistics and improves overall customer experience.
Interactive Customer Support
3D technology can also enhance customer support in the D2C model. Brands can leverage 3D visualization tools during customer interactions to provide real-time guidance and assistance. Customer support representatives can use 3D models to demonstrate product features, assembly processes, or troubleshooting steps, helping consumers resolve issues or make informed decisions. This interactive customer support fosters a stronger connection between consumers and brands, building trust and loyalty.
3D technology has emerged as a game-changer in the direct-to-consumer shopping experience. By enabling virtual product visualization, accurate sizing, customization options, augmented reality experiences, and interactive customer support, 3D technology enhances convenience, reduces returns, and increases customer satisfaction. D2C brands that integrate 3D technology into their platforms provide consumers with a more immersive and engaging shopping experience, strengthening their position in the competitive retail landscape. As technology continues to advance, we can expect even more innovative uses of 3D technology to further improve the D2C shopping journey.