You've heard the word sustainability used countless times by companies across industries. As we see an emerging global shift toward the importance of the health of our plant, it's time to recognize sustainability as more than just a buzzword. The demand for environmentally-friendly business practices is loud and spans generations. From Boomers to Gen Z, the number of shoppers willing to spend more in the name of sustainability has increased by 58% in the past two years. As businesses respond to the needs of their increasingly eco-friendly consumers who put their money where their mouths are, we must ask, what does it really mean to be a sustainable business?
Sustainability, in terms of businesses in industries like eCommerce and retail, involves adopting some key strategies and practices that put a focus on reducing waste, conserving resources, and considering the impact of all business activities that could negatively impact the earth. By putting an enhanced focus on things like sustainable sourcing, logistics and transportation, creating products with a longer lifespan, and adopting content creation practices that reduce carbon emissions and decrease energy consumption, businesses can prove to shoppers that they are environmentally responsible and focused on our planet's future.
Get the latest updates straight to your
inbox.
By clicking sign up you'll receive occasional emails from imagine.io. You always have the choice to unsubscribe within every email you receive.
The Sustainability of 3D Technology
The way we create content, especially the large amounts of content needed by successful brands to execute a number of campaigns and other marketing initiatives, can be incredibly harmful to the environment. 3D is an easy, accessible option for brands looking to make a shift to environmentally-friendly content creation practices.
With its unparalleled ability to modify, edit and update imagery an unlimited amount of times, 3D technology offers an online alternative that allows businesses to create large libraries of content, at scale. Being online and app-based, 3D platforms like imagine.io allow global teams to work collaboratively in ways that are impossible with traditional content creation methods such as physical photoshoots.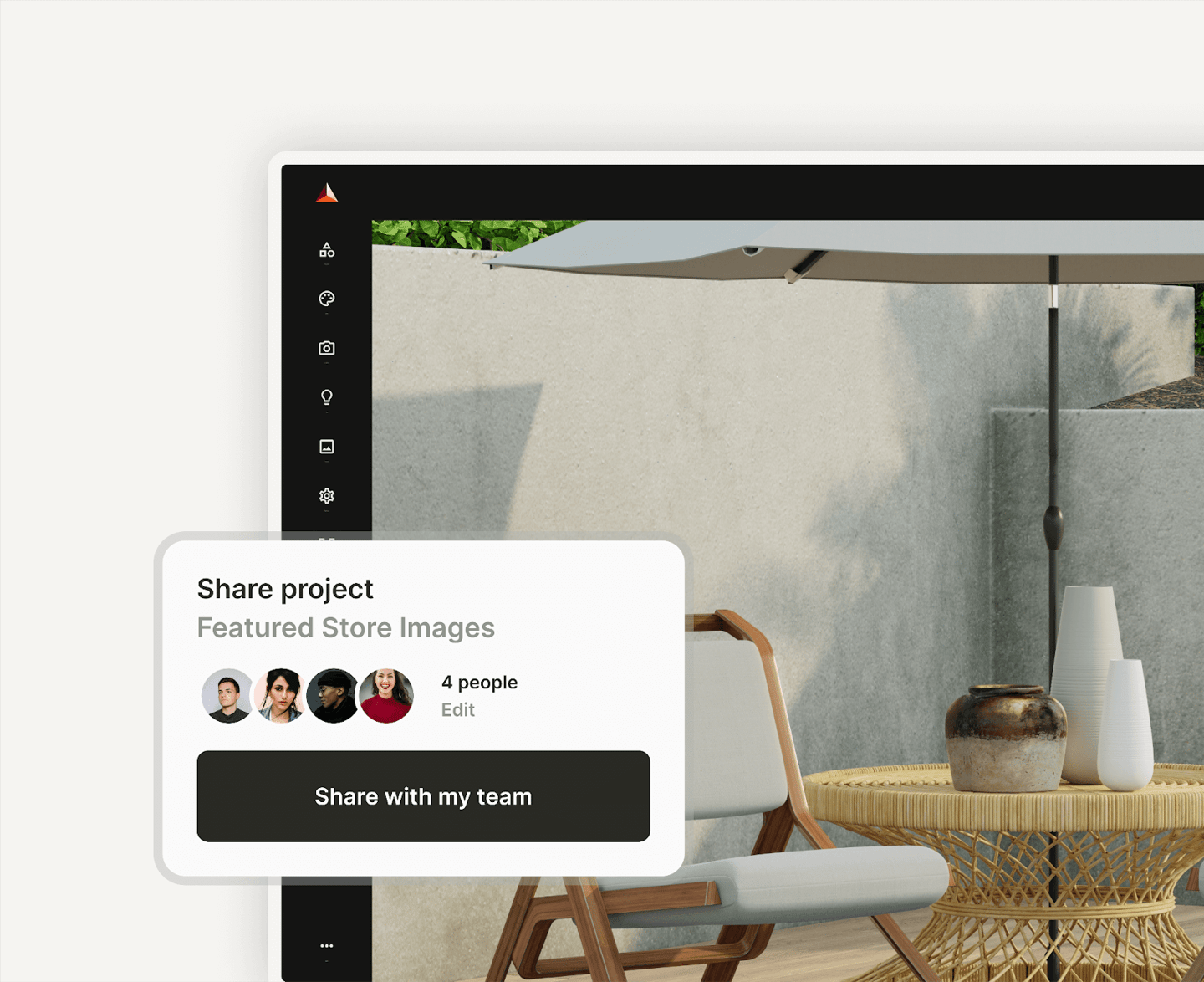 The Top 10 Reasons To Use 3D Technology For A Sustainable Future
The unlimited options 3D technology presents can be overwhelming, so we've whittled down the reasons to use 3D to create content sustainably to our top ten. Let's dive in…
1. Reduced Material Consumption
3D modeling and rendering technology allow for the creation of virtual prototypes, eliminating the need for physical prototypes and reducing material consumption. This reduces waste and conserves resources.

With 3D prototyping, designers can create virtual models of furniture or products without the need for physical materials. This eliminates the consumption of raw materials typically required for physical prototypes, reducing waste and conserving resources.
2. Reduced Transportation and Logistics
3D modeling and rendering technology enable remote collaboration and virtual meetings, reducing the need for physical transportation. This cuts down on travel-related carbon emissions and contributes to a more sustainable way of working.

Physical prototypes often need to be transported between different locations, which requires packaging and shipping. 3D prototyping eliminates the need for transportation, as the virtual models can be easily shared and accessed remotely. This reduces carbon emissions associated with transportation and decreases packaging waste.
3. Design Optimization
By visualizing products, buildings, or environments in 3D before they are physically constructed, designers can identify and address potential flaws, inefficiencies, or design conflicts. This helps optimize designs for better performance and reduces the need for costly revisions or rework later on.
4. Virtual Testing and Simulation
Simulation tools integrated with 3D modeling and rendering technology enable virtual testing and analysis of various factors such as stress, fluid dynamics, and aerodynamics. This reduces the need for physical prototypes and testing, saving resources and minimizing waste.
5. Virtual Showrooms and Marketing
Virtual showrooms and product visualizations can replace physical exhibitions and catalogs, reducing the production and transportation of marketing materials. This enables businesses to showcase their products in a more sustainable manner.
6. Shipping Emissions
With immersive 3D technology like AR and VR, customers can easily visualize a product in their space, which can save emissions caused by shipping and transportation of the product and then additional emissions produced if the product needs to be returned if the customer is unhappy and changes their mind.
7. Iterative Design
3D allows for quick and efficient iterations of designs. Designers can easily make changes and adjustments to the virtual model, eliminating the need to create new physical prototypes for each iteration. This saves materials and reduces waste throughout the design process.
8. Reduced Manufacturing Waste
By using 3D prototyping, designers can accurately test and refine their designs virtually before starting the manufacturing process. This helps identify and address any design flaws or issues, reducing the likelihood of producing faulty or unsatisfactory products. Consequently, it minimizes manufacturing waste and the need for rework or product disposal.
9. Customization and Personalization
3D technology enables customization and personalization of products without significant additional costs or material waste. Instead of producing multiple physical prototypes for different variations, brands can enable customers to create and visualize different configurations virtually, within a product page. This reduces the need for excess inventory and enables a more sustainable approach to meet individual customer preferences.


10. Time and Cost Savings
3D prototyping reduces the time and cost required for physical prototyping, as well as the associated material waste. The virtual prototyping process allows for rapid design iterations, quicker decision-making, and faster time-to-market. This efficiency translates into resource savings and a more sustainable production cycle.