In today's fiercely competitive business landscape, effective product marketing plays a pivotal role in the success of any industry. One of said industries that rely on powerful marketing strategies is the lighting industry. With consumers becoming increasingly discerning, seeking innovative solutions for their lighting needs, brands must find creative ways to captivate their audiences and outshine the competition.
Traditional marketing methods alone are no longer sufficient to leave a lasting impact on potential customers. Enter 3D generated content – cutting-edge technology that has revolutionized the way products are showcased and sold in the lighting industry. With its limitless potential, 3D content presents a wide array of benefits that can significantly enhance a brands visual content strategy with realistic, high converting imagery and immersive experiences that bring products to life for shoppers.
Get the latest updates straight to your
inbox.
By clicking sign up you'll receive occasional emails from imagine.io. You always have the choice to unsubscribe within every email you receive.
Understanding The Power of 3D Generated Content
We're living in a digital era. It's fast-paced and shoppers have new, higher expectations of the brands they're buying from. Static images and conventional product descriptions are no longer enough to captivate consumers and drive sales.
The rising demand for innovative marketing solutions has led to the emergence of 3D content creation platforms that revolutionize the way lighting products are presented and marketed. Let's dive into the advantages of harnessing the power of 3D generated content for your lighting products:
Realistic and Immersive Visualizations
The most significant advantage of using 3D generated content for lighting products is the ability to create stunningly realistic and immersive visualizations. With advanced rendering techniques and high-quality textures, 3D models can bring your products to life like never before. Prospective customers can virtually experience how your products would look in their homes or commercial spaces, enabling them to make more informed purchasing decisions. By showcasing your lighting products in their best light, you instill confidence in buyers and enhance their overall shopping experience.
Customization and Flexibility
Unlike traditional product photography, where multiple shots are required for different angles and configurations, 3D generated content offers unparalleled customization and flexibility. By using a platform like imagine.io, you can effortlessly demonstrate multiple product variations, finishes and sizes, catering to the unique preferences of your customers. This level of customization not only boosts customer satisfaction but also streamlines the decision-making process, as consumers can easily visualize and choose the perfect lighting solution tailored to their specific needs.
Cost and Time Savings
Traditional content creation methods can be time-consuming and expensive. 3D generated content eliminates these challenges, providing a cost-effective and time-efficient alternative. Once a product is modeled in 3D by our team of experts, it can be reused and repurposed across different marketing channels and campaigns, saving valuable resources and reducing the need for constant reshoots. We did the math, imagine.io helps brands to save over 90% on photography costs by delivering more imagery faster than traditional methods.
Increased Customer Engagement
Engaging customers and sparking an emotional connection with product imagery are key drivers of success in selling. 3D technology like augmented reality and virtual reality allows users to interact with lighting products in a virtual environment. This interactive experience fosters a deeper sense of engagement, empowering customers to explore and interact with the products as if they were physically present. Potential buyers become more invested in your product offerings, leading to higher conversion rates and brand loyalty.
Brands that leverage 3D generated content can expect to see boosted sales and increased brand visibility. From providing unparalleled customization to significant cost and time savings, the cutting-edge solution to stale brand imagery that 3D provides has the potential to revolutionize your marketing approach.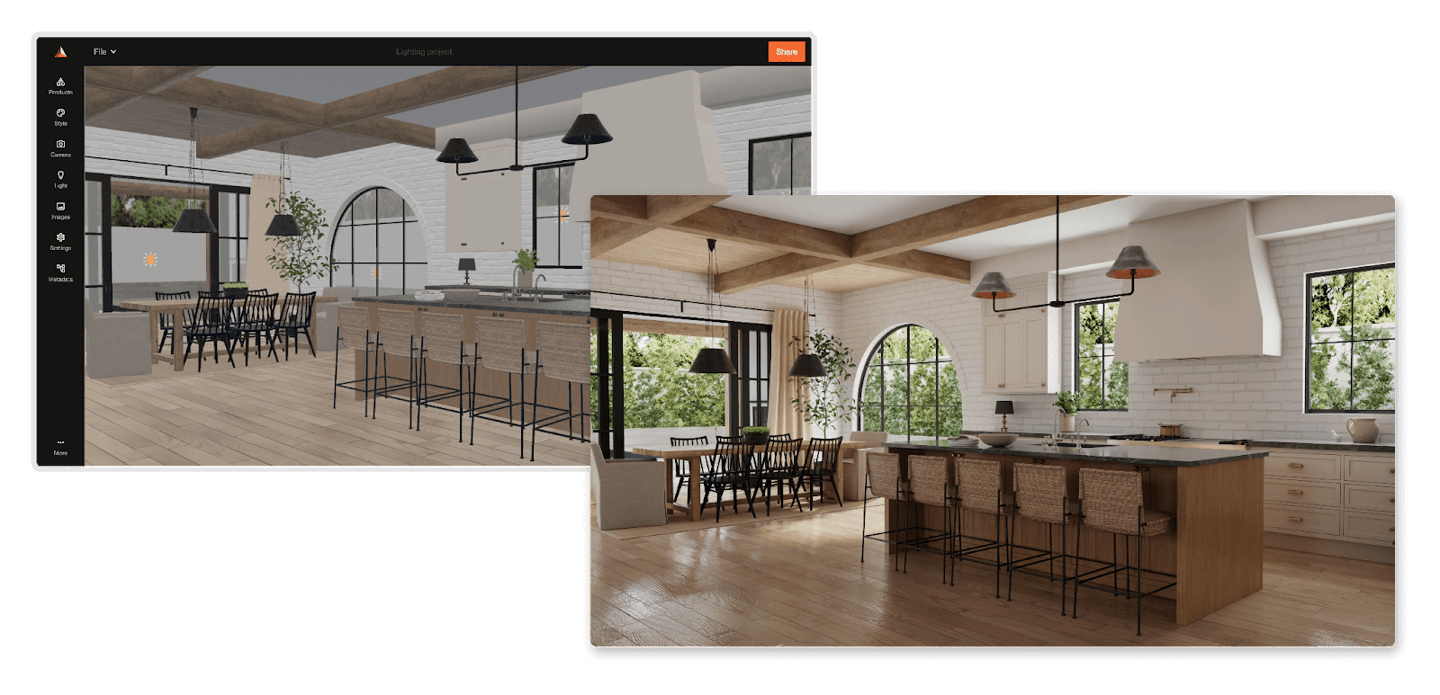 Identifying Your Audience and Tailoring Content to Meet Their Needs
Understanding and catering to your audience's preferences and needs is a crucial step toward success. When it comes to product imagery and marketing collateral, it's essential to tailor your content to resonate with your audience effectively. Let's break down how brands can begin this journey in four steps:
Step 1 : Define Your Target Market for Lighting Products
Before creating any content, define your target audience and determine what they want to see
Ask yourself 'Who are my ideal customers? What are their specific needs, preferences, and pain points?'
Understand your target audience's demographics, lifestyle and purchasing behavior in order to develop 3D content that speaks directly to them
Begin the process of conducting market research, analyze customer data, and gather feedback to gain valuable insights into what appeals most to your potential buyers (... more on this in the next step)
Step 2: Analyze Customer Preferences and Trends
Analyze data from previous sales, social media interactions, and industry trends to identify patterns in customer choices and popular lighting styles.
Ask yourself questions like 'Are customers gravitating towards minimalist designs or more ornate fixtures? Do certain colors or finishes consistently perform better than others?'
With this information, you can strategically align your 3D content with the current demands of the market and sell more lighting products
Step 3: Address Pain Points and Showcase Solutions
Craft your content to address your audience's pain points and showcase your lighting products as the ideal solutions
Highlight the features and functionalities that set your products apart from competitors
Demonstrate how your lighting fixtures can effectively enhance the ambiance and functionality of different spaces
Step 4: Personalize and Customize
Use 3Ds ability to offer personalized and customizable experiences to your benefit by providing interactive elements within your content and on product pages
Allow users to change the material of your product, or swap out different shades and finishes
Empower shoppers to envision how the lighting solution will seamlessly fit into their own spaces with VR and detailed lifestyle scenes showcasing a variety of locations
Successfully selling more lighting products using 3D generated content hinges on the ability to tailor your imagery to resonate with your target market. By defining your audience, analyzing customer preferences and market trends, and incorporating personalization and problem-solving elements into your 3D content, you can effectively meet the needs of shoppers considering your products and elevate your marketing efforts.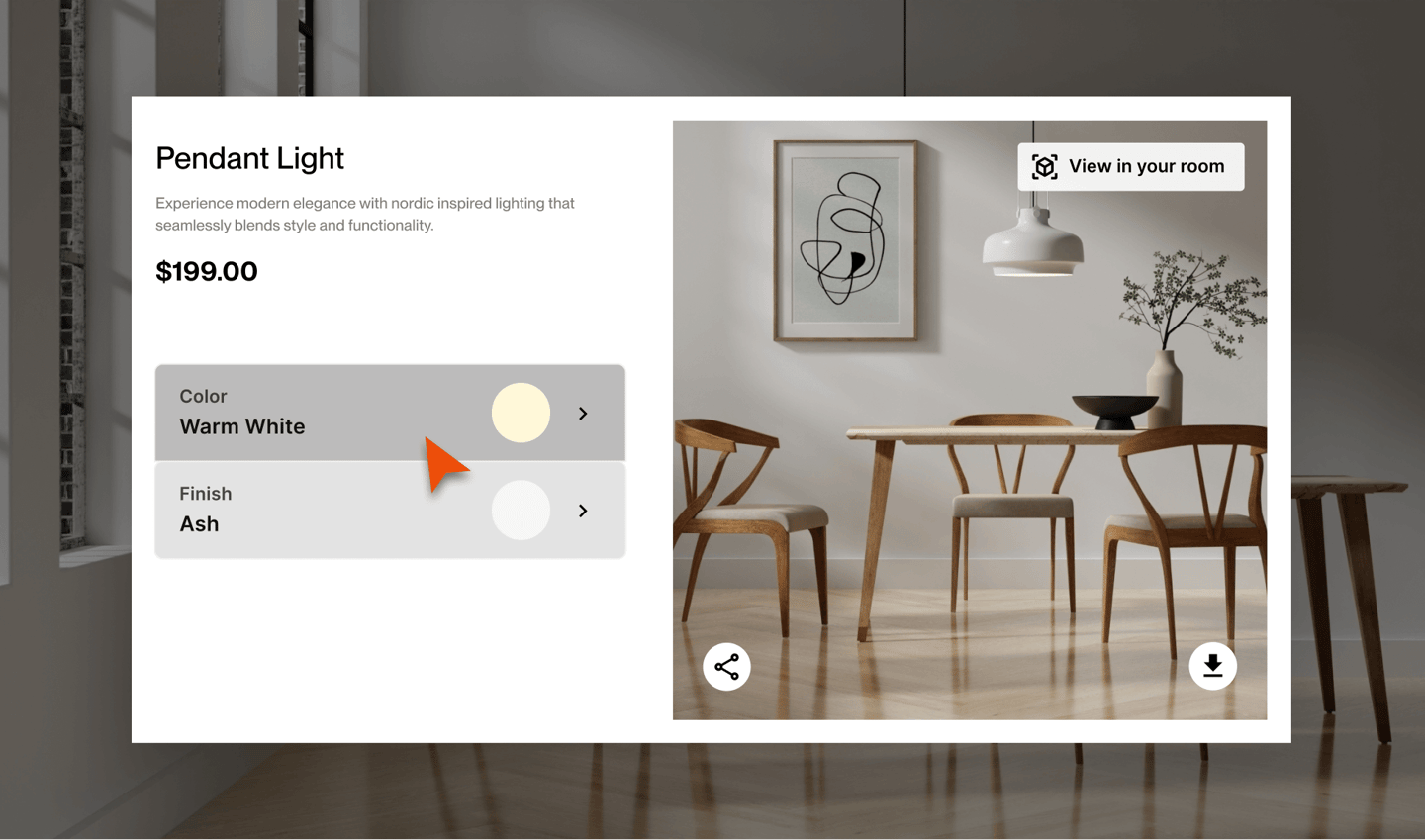 Creating Compelling 3D Generated Content
Mastering the art of 3D generated content for selling lighting products involves careful consideration to the highlighting of key features and benefits and showcasing diverse applications and settings. When executed thoughtfully, your 3D content can be a powerful tool that draws your audience in, boosts sales, and solidifies your position as a leader in the lighting industry.
Highlighting Key Features and Benefits
While 3D content provides stunning visual appeal, it can benefit your product pages with more than just its looks. With visitors reading only 20% of text on a webpage, employing realistic imagery that communicates the key features and benefits of your lighting products effectively is paramount.
Use detailed 3D imagery to showcase how your products can solve specific lighting challenges with curated lifestyle templates. Highlight the unique selling points of each product with feature-rich images in 360 degree views. Using imagine.io allows you to expand your product imagery library and add features like 3D product configurators to your product page that increase buyer confidence and ultimately win more customers.
Showcasing Different Applications and Settings
To resonate with a wider audience and demonstrate the versatility of your lighting products, showcase them in a range of different applications and settings. Create 3D content that portrays products in residential spaces, offices, hospitality venues, outdoor environments and more. This approach allows shoppers to envision how your products can transform their space. By illustrating the flexibility and adaptability of your lighting solutions, you broaden their appeal and open doors to new market segments.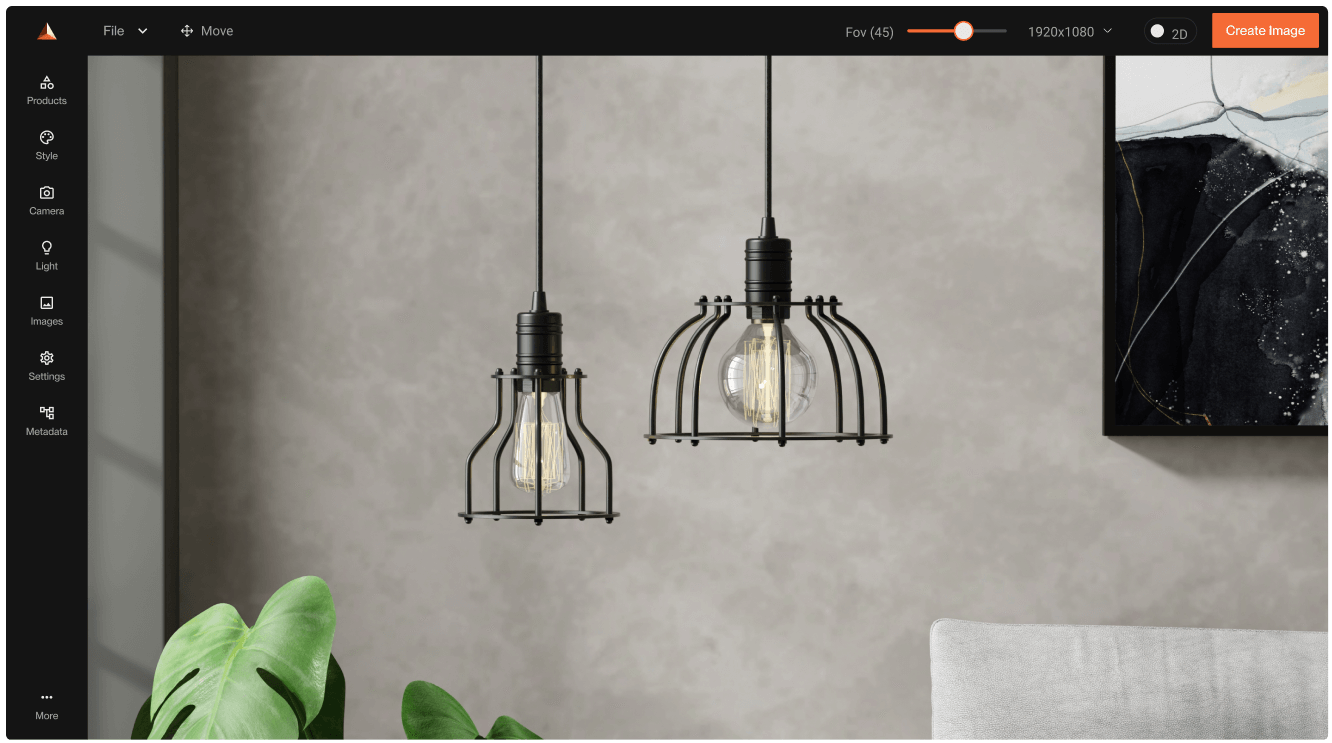 Leveraging Your 3D Content to Maximize Results
In our dynamic online world, effective marketing requires adapting your 3D generated content to various platforms to reach a wider audience. From your website, to third party marketplaces to social media and beyond, 3D generated content can be used across your visual content strategy, but it must be optimized to work in the space it's in.
Optimizing 3D Content for Marketing Channels
Adapt Content for Various Platforms
To effectively sell more lighting products using 3D generated content, it's crucial to tailor your content for different platforms. What works well on your website may not be as engaging on social media, and vice versa. Optimize the aspect ratio, image size, and content format to suit each platform's specifications. For websites, provide in-depth product visualizations that tell the story of your detailed description. On social media, focus on eye-catching visuals and compelling captions that engage your followers. By adapting your 3D content to the unique requirements of where it lives, you can effectively capture the attention of your target audience.
Implement Interactive Elements for Enhanced User Experience
One of the most significant advantages of 3D generated content is its interactivity. Take advantage of this feature to create engaging experiences for your audience. Incorporate interactive elements that allow users to interact with the lighting models, change angles, and experiment with different settings. Interactive 3D product configurators can empower customers to personalize lighting fixtures according to their preferences. By involving users in the creative process, you foster a deeper connection with your products and increase the likelihood of converting visitors into buyers.
Gain Exposure Through Social Media
Create Visually Appealing Posts and Campaigns
Visually stunning content has the power to help you gain social media followers and leave a lasting impression. Investing in high-quality 3D content allows brands to create visually appealing posts and campaigns that showcase the elegance and functionality of your lighting products while increasing brand awareness and building your community. In 2022, social commerce sales worldwide amounted to $958 billion and are expected to hit $1.3 trillion in 2023, a 30.8% increase- a trend that is predicted to continue until the year 2026, where the growth rate then jumps to 35.3%! With the popularity of established and emerging social platforms showing no signs of slowing, now is the time for lighting brands to make their content a priority and use social media as a selling tool.
Collaborate with Influencers and Industry Experts
Expand your reach and credibility by collaborating with influencers and industry experts in the lighting field. Influencers with a substantial following can help introduce your 3D generated content to new audiences, while industry experts can vouch for the quality and innovation of your lighting products. Seek partnerships with individuals who align with your brand values and target audience, and leverage their influence to endorse your 3D content and products.
By employing these strategies, brands can effectively elevate their marketing efforts, expand their brand's visibility, and drive more sales for lighting products in the competitive digital landscape.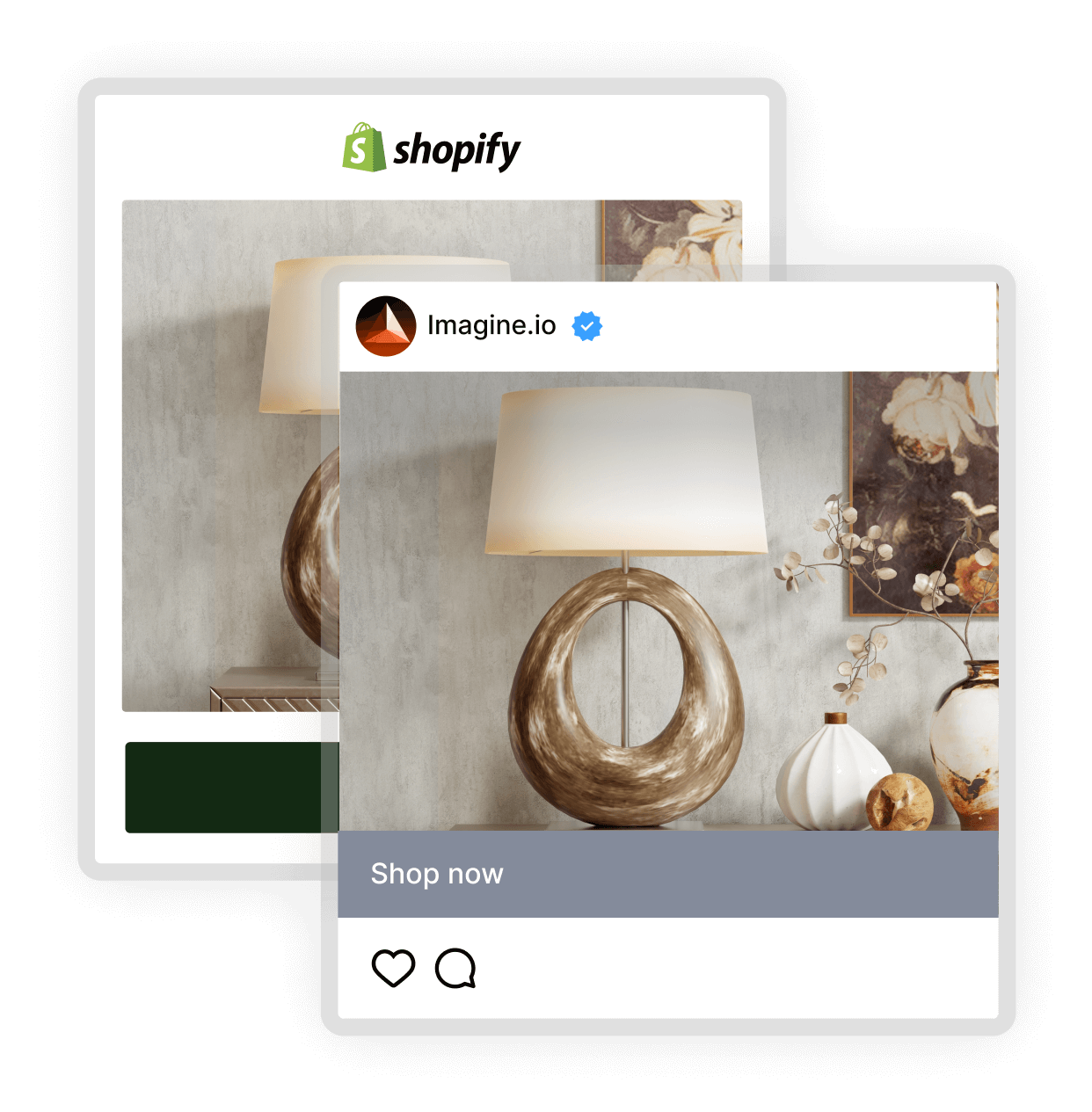 Lighting The Way For More Sales
In the online selling arena, traditional marketing methods have gone by the wayside and are no longer enough to captivate consumers and drive sales. However, 3D generated content offers a better way to differentiate your visual content and propel your marketing efforts to new heights.
3D technology proves to be a powerful tool in creating imagery for lighting products, enabling shoppers to visualize how lighting solutions will enhance their spaces. With 24% of retail purchases expected to take place online by 2026, investing in technology that creates captivating images and shopping experiences is key to staying competitive, winning customers and selling more lighting products.
Embracing 3D content helps brands to sell more products, improve customer engagement, and save time and money by forgoing traditional content creation methods. Unlock the key to driving sales by using 3D generated content to showcase your lighting products effectively and book a demo with imagine.io today.